I had never heard of A. Alvarez about ten years ago when he participated in a panel discussion in New York City about Sylvia Plath.  He was the least famous person among the distinguished poets and critics on the panel, and yet he claimed that Sylvia had made a pass at him shortly before she died.  Alvarez is no Ted Hughes, physically or literarily, and I wondered if he were making the whole thing up. 
            If so, he is quite adept at making up stories about his relationships with the literary stars of the twentieth century.  More likely, though, he is an honest man whose talent for writing is enough to secure him a position as spear-carrier to the scholars and scribblers but not quite enough to make him a household name in his own right.
Alvarez's new memoir, Where Did It All Go Right? is an amalgam of these stories about his relations with the more famous.  When, as a young man, he wins a Fulbright to go to Princeton University and give lectures, he shares a suite with V.S. Pritchett and drinks with W.H. Auden.   He is invited to parties at which Kingsley Amis misbehaves; he visits Ezra Pound in prison; he discusses criticism with Frank Kermode.  He admires Frieda Lawrence so much that he journeys to Taos, New Mexico to meet her and ends up marrying (temporarily, unhappily) her granddaughter.
Some of the most enjoyable parts of the book occur as Alvarez discovers America.  Like Alistair Cooke, he brings the fresh and often fascinating perspective of a well-educated outsider to the society we often take for granted.  With obvious delight, Alvarez describes his first New York City cab driver, who careens through the city, honking and shouting and making vulgar comments about passersby, and then drops him off at Penn Station with "Have a nice day!"  "I had never heard the expression before," says Alvarez.  "'Have a what?'  It had never crossed my British mind that a nice day could possibly be an option."  And here is his pleasure at returning to New York on subsequent visits: " . . . each time I arrived at Immigration a weight lifted from my spirit.  I felt more energetic, smarter, more interested than I ever felt in England."  He even enjoys traveling through the "industrial swamps" between Princeton, NJ and New York City: "The ugliness was the flip side of the American dream and it had a beauty all its own.  I told myself that this was what the true modern world was like—power without excuses, energy without frills, grimy and unrelenting . . . "
            As the editor of The New Poetry, an influential anthology published in 1962, and the long-time poetry critic and editor for the Observer, Alvarez has wielded a fair amount of power in literary circles.  He has also lived through the London blitz of World War II; taken a "first" at Oxford; written articles for the New Yorker; produced books about John Donne, suicide, divorce, rock-climbing, and gambling, among other things; married twice; helped raise three children; learned, late in life, to love his mother; and, somehow, turned some unhappy beginnings into a comfortable and successful life.  Where Did It All Go Right? is not quite a celebrity autobiography; neither is it a memoir of everyman.  It is the well-written story of one man's struggles and successes, at the edges of fame, interwoven with a sort of personal history of the serious literary figures of the last half-century.  In this age of memoirs, many of which are laced with scandal and sensation, Alvarez's stands out for its evocation of the joys of the quiet life.
<![if !supportEmptyParas]> <![endif]>
© 2002 Heather C. Liston
Heather C. Liston studied Religion at Princeton University and earned a Masters degree from the NYU Graduate School of Business Administration. She is the Director of Development for The Santa Fe Children's Museum, and writes extensively on a variety of topics. Her book reviews and other work have appeared in Self, Women Outside, The Princeton Alumni Weekly, Appalachia, Your Health and elsewhere.
Buy the book from BN.com: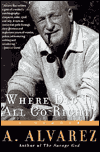 Where Did It All Go Right?